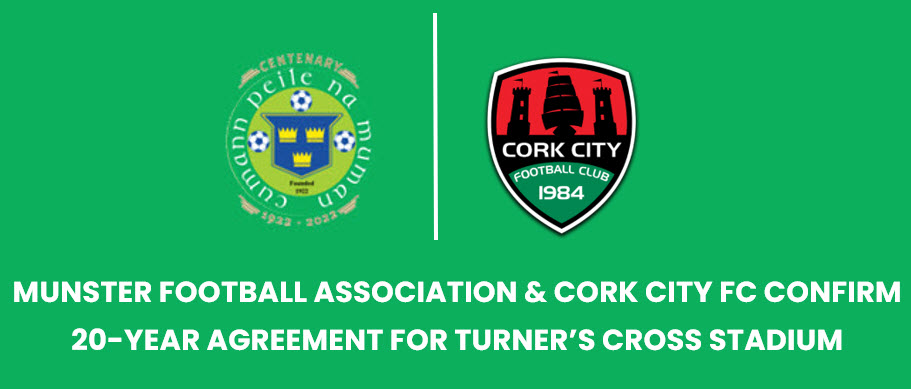 Munster FA & Cork City FC Confirm 20-Year Agreement for Turner's Cross Stadium!
Cork City FC and the Munster Football Association are delighted to confirm that the two parties have agreed a 20-year agreement for the use of Turner's Cross Stadium for League of Ireland and Women's National League matches. The agreement secures City's home venue on a long-term basis for the first time in the club's history, and will also see both parties commit to working together on funding opportunities for improvements to the stadium.
Richard Browne, Chairman of the Munster Football Association, commented on the agreement, saying: "We are pleased to confirm this long-term agreement for Cork City to play at Turner's Cross Stadium. Turner's Cross is the home of football in Cork, and we are pleased to have it confirmed now that Cork City's men's and women's teams will be playing out of there for the foreseeable future. We believe that this agreement will create positive new opportunities for the MFA, and see both parties work even more closely together for the benefit of football in Cork."
Munster FA administrator Barry Cotter said: "We are very pleased to have this agreement confirmed. This is the start of a new chapter in the long relationship between Cork City and the MFA, and one that we all believe will be positive and beneficial for all parties. We look forward to working with our colleagues at Cork City to build on this relationship going forward."
Previously, any government capital or infrastructure grants that were applied for by Cork City FC could not be invested in Turner's Cross due to the short-term nature of previous agreements. With the signing of this agreement, both the MFA and Cork City FC intend to submit grant applications with the collaborative goal of upgrading the facilities at Turner's Cross. As part of the agreement, a working group with the sole aim of developing a short and medium term plan to develop the stadium is being established.
John Paul Clifford, City Board Member with responsibility for infrastructure, commented: "This is a very welcome and positive development. We have had some really positive discussions with the MFA over the last while, and it is great to see those discussions come to fruition. This agreement gives us security and also opens up more avenues to both parties to work together on improvements and upgrades to the stadium that will benefit all concerned."
Welcoming the news, City Chairman Declan Carey said: "We are very pleased to announce this news. There have been a lot of discussions in the background going on over the last while to bring us to this point, and this is a very welcome development for both parties. I would like to thank the MFA for their assistance and cooperation on getting this agreement signed off."
As part of the agreement, the MFA and Cork City FC have agreed clear structures for rental costs, stadium usage and stadium commercial opportunities. This means that both organisations can now work collaboratively on creating a broader strategy for Turner's Cross Stadium and how it's potential can be maximised for Cork football.
City's Chief Operating Officer, Éanna Buckley, said: "I would like to thank the MFA Executive and MFA Council, and in particular Richard Browne and Barry Cotter for their engagement and cooperation over the last while. I believe certainty and stability are very important for us to build for the future, and this agreement gives the club long-term certainty on our home ground for the first time in our history. This is very positive news and an important step forward for the club."
https://munsterfootball.ie/wp-content/uploads/2022/10/2022-10-17_23-22-49-1.jpg
389
911
Peter Travers
https://shared3.sportsmanager.ie/~munsterfa/wp-content/uploads/2022/09/logo.png
Peter Travers
2022-10-17 23:20:28
2022-10-17 23:27:31
Munster FA & Cork City FC Confirm 20-Year Agreement for Turner's Cross Stadium!